​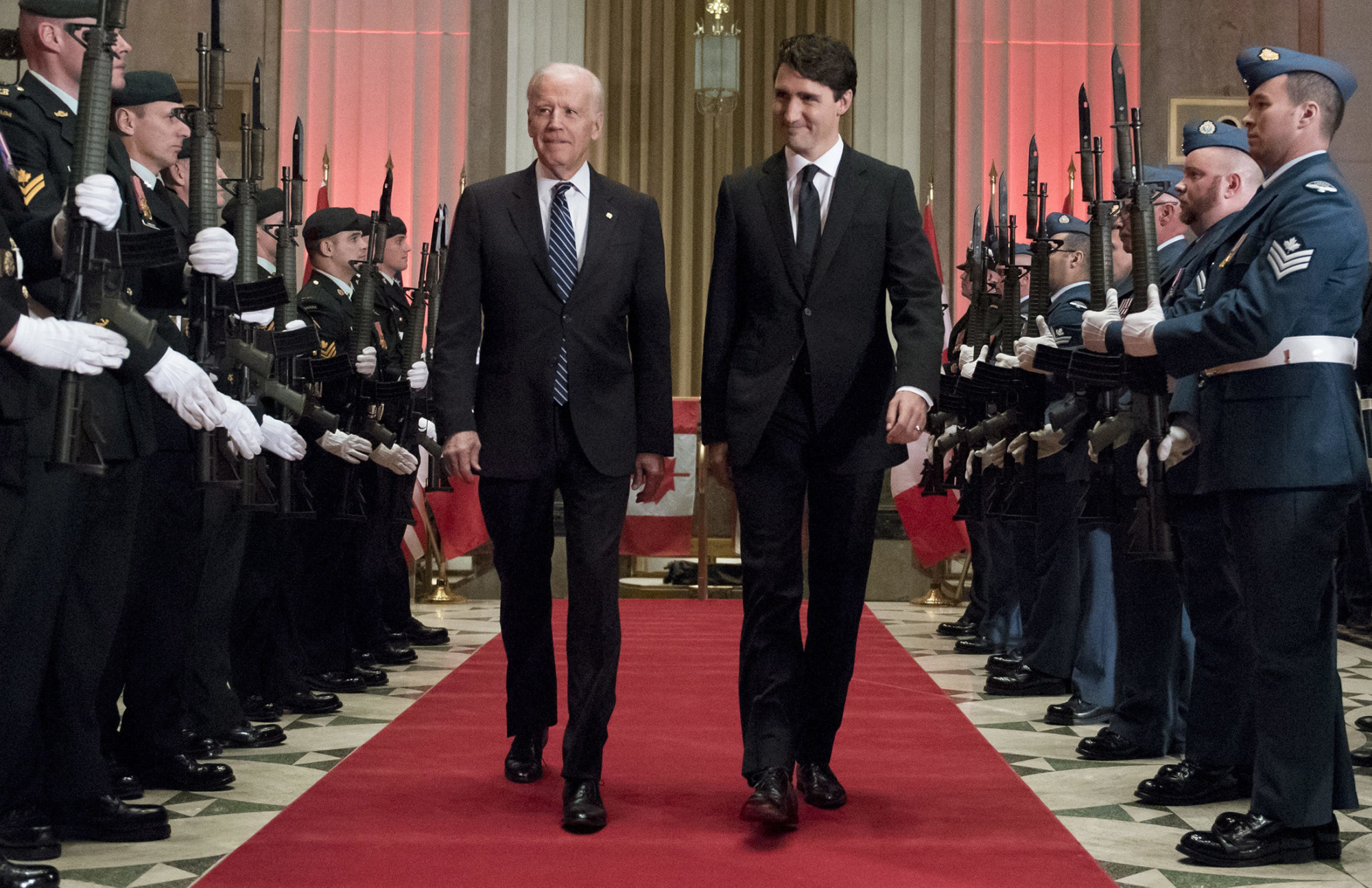 The world will look to Germany and Canada for leadership as the political status-quo is upended across the West, Vice-President Joe Biden said.
Visiting Ottawa before he leaves office, the vice-president called on Prime Minister Justin Trudeau — who is beginning his second year in power — to set an example on the international stage.
"I've never seen Europe engaged in as much self-doubt," Biden said Thursday evening at a dinner hosted by Trudeau. "The world's going to spend a lot of time looking to you, prime minister, as we see more and more challenges to the liberal international order since the end of World War II — you and Angela Merkel."
Trudeau is an avowed feminist pushing a pro-trade and pro-immigration agenda that is at odds with the rhetoric of President-elect Donald Trump. However, the prime minister has largely avoided criticizinghim, saying he will work with any U.S. leader.
Biden will meet with Canadian premiers on Friday as they prepare to negotiate a national climate accord with Trudeau. The vice-president called climate change the "most consequential issue of our generation," and ended his remarks with a toast of "viva Canada."
Trade, Climate
The bilateral meeting comes as Trudeau's government prepares for the arrival of Trump, who has boththreatened to renegotiate the North American Free Trade Agreement andraised hopes for reviving TransCanada Corp.'s Keystone XL pipeline proposal. Canada and the U.S. are also facing trade battles over softwood lumber and drywall.
Climate issues could be another source of friction. Trudeau is speeding up Canada's phase-out of coal powerand putting a national price on carbon emissions. Trump, meanwhile, is looking to overhaul the Energy Department, has threatened to pull the U.S. of the Paris climate accord and has chosen an outspoken critic of the Environmental Protection Agency to lead it.
Both Trudeau and Biden praised the Canada-U.S. relationship, with the vice-president calling it "absolutely critical" and saying the vast majority of Americans consider Canada to be family. Trudeau made no direct reference to Trump, though cited "all the cycles of political seasons" in his remarks.
"We do very well in all conditions and this friendship endures through whatever situations we encounter," the prime minister said. "It's a special friendship, one that is unique on the world stage."